Many roads lead to Dortmund, after all the city enjoys excellent transport connections. Not only is it served by one of the densest motorway networks in Europe, its own airport means that major economic centres are only a couple of hours away by plane. And with ICE, IC and EC trains running every hour, Dortmund is easily accessible from all points of the compass, in Germany and abroad.
Home to some 600,000 people, the city of Dortmund is located on the eastern edge of the Ruhr Region in the west of Germany. Famed for football, beer and industrial heritage, it offers plenty more besides. Popular day-trip destinations include Dortmund Zoo, the Westfalenpark and several museums, most notably the German Football Museum. Every winter Dortmund's Christmas market boasts the world's largest Christmas tree. But Dortmund's not just about the past, or even the present. The future is here: Among other things, TU Dortmund University is busy conducting research in the field of artificial intelligence.
While you're in the area, why not explore some of Dortmund's nearest neighbours and discover a few more of the Ruhr Region's famous landmarks? Hop over to Cologne in just under an hour and a half to see its monumental cathedral, a UNESCO World Heritage Site, followed perhaps by a river cruise on the Rhine. And only half an hour away in Essen awaits another UNESCO World Heritage Site: the Zollverein Colliery, where industrial history meets contemporary art against a backdrop of rich architecture.
Have we whetted your appetite?
We look forward to welcoming you at the 2022 World Robot Olympiad in Dortmund!
[Header picture: © Hans Jürgen Landes / DORTMUNDtourismus]
Greetings from Dortmund's Mayor Thomas Westphal
On this site you can find information on:
Dortmund is at the hub of a whole network of fast connections so, wherever you set out from, you can get here easily by air, rail or road.
Bus "AirportExpress"
From Dortmund Airport (on the departure level just outside the terminal) to Dortmund Hauptbahnhof (arrives in front of the main railway station)
Bus 490 and tram/underground U47
Bus 490: Dortmund Airport to "Dortmund Aplerbeck"
CHANGE to tram/underground
U47: "Dortmund Aplerbeck" to Dortmund Hauptbahnhof (main railway station)
Skytrain and Regionalexpress train RE1 or RE6
Skytrain: Terminal A, B or C to "Düsseldorf Flughafen Bahnhof" (airport station)
CHANGE to train
RE1 or RE6: "Düsseldorf Flughafen Bahnhof" (airport station) to Dortmund Hauptbahnhof (Dortmund main railway station)
​​​​​​​Skytrain and Regionalexpress train
"Düsseldorf Flughafen Terminal" (Airport terminal station directly under the terminal) to Dortmund Hauptbahnhof (Dortmund main railway station)
Come by ICE train without having to change from:
Berlin (3h 30m)
Bremen (1h 45m)
Cologne (1h 10m)
Düsseldorf (1h)
Frankfurt a.M. (3h 30m)
Hamburg (2h 50m)
Munich (6h)
Stuttgart (3h 30m)
Bucket List - Things to see
The stadium of legendary football club Borussia Dortmund (BVB 09) holds 80,000 spectators and its Südtribüne is the largest terrace in Europe. Expect to be blown away by the atmosphere!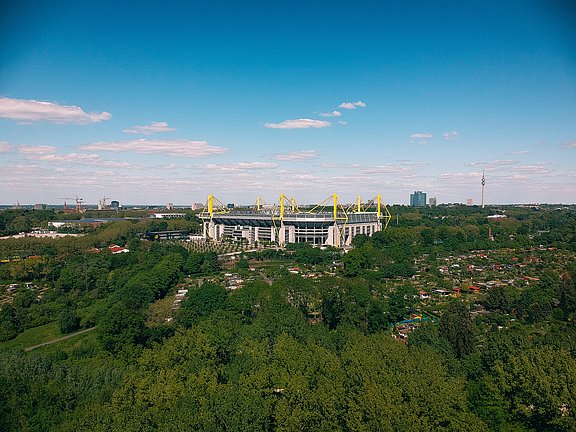 There are around 1500 animals to discover at Dortmund Zoo, including giraffes, anteaters and rhinos. And for the little ones a petting zoo, of course!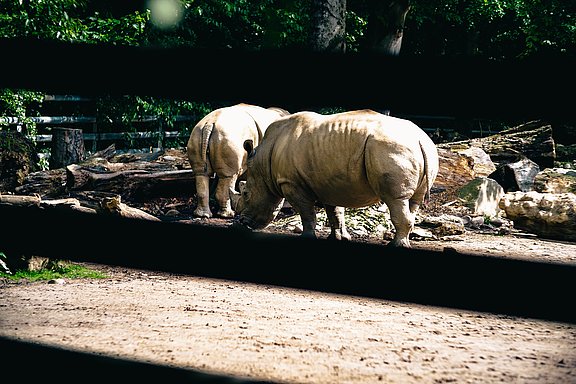 The Dortmund U Tower is one of the city's most iconic landmarks. Built by the Dortmund Union Brewery, these days it houses an arts and creativity centre while the roof terrace offers views across the city.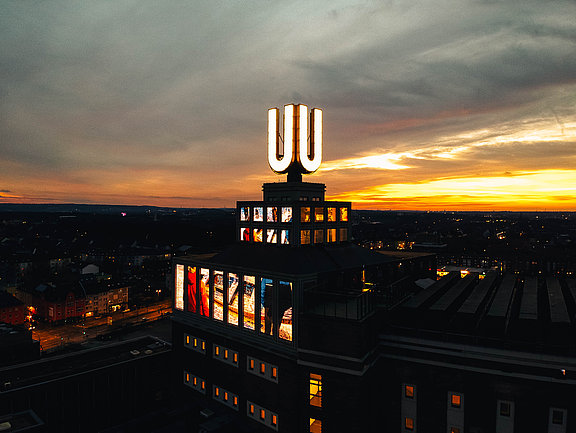 The DASA Working World Exhibition focusses on the relationship between people, work and technology. What sets it apart from standard museums is the hands-on experience, with a series of unique zones full of interactive fun to explore!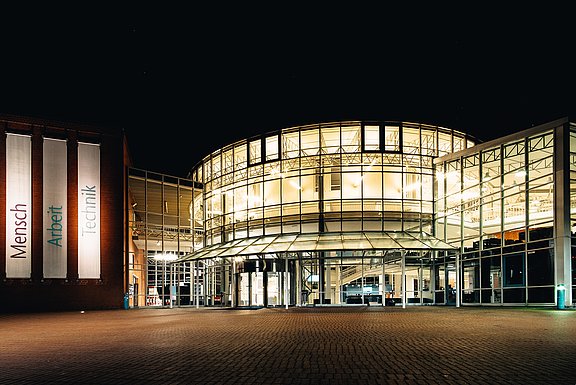 Zeche Zollern – former colliery
In its heyday, this former colliery was known as the Palace of Work thanks to its magnificent architecture. Today it's a museum celebrating the life of the coalminers, or "Kumpels" as they called each other in pit talk. Step into the past inside the Montanium, a working replica of a pit with real machines, to see what life was like for the men and boys who worked underground.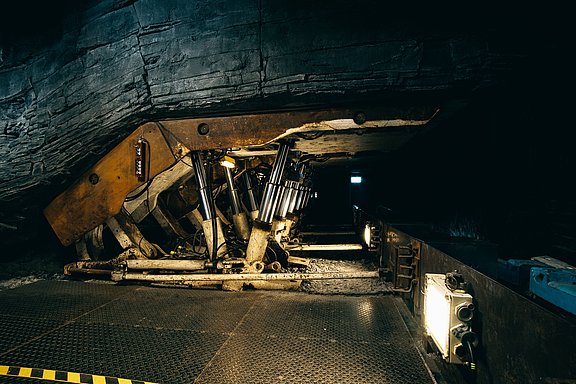 Get ready for a blast from the past at BINARIUM, aka the German Museum of Digital Culture, an unrivalled collection of game consoles and personal computers from past and present. Many of the 250-odd video games and consoles are plugged in and waiting for you to put your skills to the test, so what are you waiting for?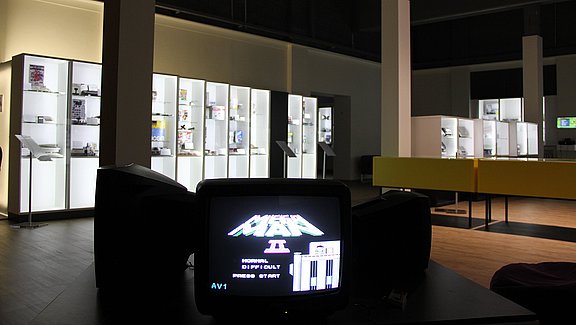 Opposite the main railway station, the German Football Museum (Deutsches Fußballmuseum) is a must-see for every self-respecting footie fan. Artefacts include boots and final shirts of footballing legends, as well as much of the DFB's finest silverware! Take a dive into the history of football in our 3D cinema and Hall of Fame.
The Westfalenpark is a large, popular park with expansive gardens, abundant flowers and exotic trees. Children in particular will delight in the many attractions, including a mini railway and a cable car that run through the park. The Westfalenpark's famous emblem is its 200-metre-tall Florian Tower, which offers unparalleled 360° views over the city and beyond!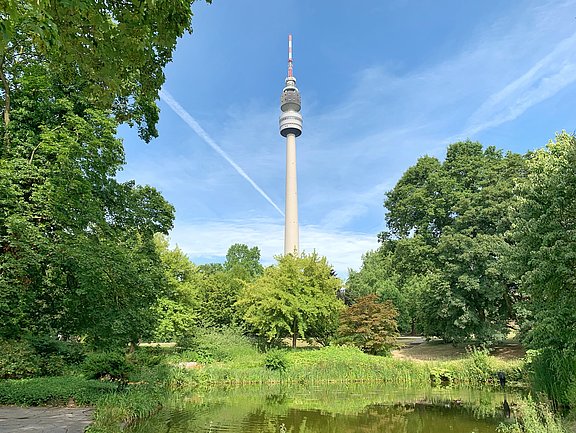 Dortmund was once known as the beer capital of Europe. Discover the history of beer and the art of brewing at the Brewery Museum (Brauerei Museum), with artefacts including tankards, barrels and beer bottles – fascinating even if you're not a beer-drinker. Admission is free.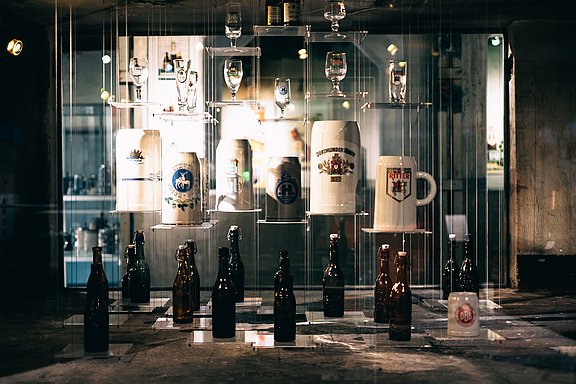 Once a site of thriving heavy industry, PHOENIX West has reinvented itself as a popular recreational destination against the backdrop of the disused blast furnace. This imposing structure has become the main attraction, its gas pipeline repurposed as an elevated walkway. At a height of 65 metres, the Skywalk offers a stunning panorama of the city, and a spectacular insight into our industrial heritage.
Bucket List – Food & Drink
Although it looks like a bagel because of the hole in the middle, Salzkuchen is a crispy bread roll sprinkled with caraway seeds and salt. It's traditionally served with ground pork and onion, although it's also popular with a slice of cheese instead.
For 150 years, Dortmund's oldest distillery Krämer has been producing a herb liqueur called August mit dem Schlips, which roughly translates as "Augustus in a necktie". We recommend it as a digestif after your meal. But only if you're over 18, of course.
A fried pork sausage cut into bite-sized chunks and served in a tasty, sweet and spicy curry-ketchup sauce. It usually comes alongside a portion of fries with mayonnaise – or as a double portion of currywurst.
A hearty stew of beef, onions and pepper that originates in Westphalia. Enjoy it in Dortmund's traditional restaurants with boiled potatoes, pickled gherkins and a pickled beetroot.
Cake and gateau at Café Kleimann
Café Kleimann has been serving cakes and gateaux since 1903. You'll find it beside the Petrikirche church in the city centre. What makes it special besides its delicious pastries? The two parrots who talk to the guests, of course.
An absolute must in Dortmund! Crispy fries made from fresh potatoes, served with a dollop of mayonnaise and a generous squirt of ketchup, hence the name "Schranke" like the red and white barriers at railway crossings.
The most popular hot drink at the Christmas market! A sweet, hot wine seasoned with all sorts of Christmassy spices like cinnamon and aniseed – but don't underestimate the alcohol content. For the kids and anyone who avoids alcohol, just ask for Kinderglühwein or Kinderpunsch. It's alcohol-free, super sweet and super yummy!
Originally introduced to Germany by Turkish immigrant workers, the döner has established itself here alongside hamburgers and fries as a fast-food staple. A Dönertasche is a pocket of Turkish flatbread filled with whatever takes your fancy: salad, a variety of sauces and beef or chicken – or without meat for vegetarians. Döner fans are spoilt for choice in Dortmund, with dozens of Dönerbuden all over the city.
Something for the grown-ups: Why not try some of the local beers like Kronen, DAB pilsener or Bergmann beer? Having been the beer capital of Europe at one time, we know a thing or two about beer in Dortmund.
Their delicious fragrance fills the air and draws you towards them ... Made by caramelising almonds with sugar until they get their typical crunchy sweet coating, you'll find roasted almonds on just about every corner at the Christmas market.
Bucket List – Places nearby
10 useful words in Dortmund dialect
Bude: Refreshment kiosk also known as a Trinkhalle; also room or flat
datt: das, that
Ey: Oi or Hey – listen to me (Ey, you back there!); also an expression of disgust
Feierahmtbier: Feierabendbier, a well-deserved beer after a hard day's work
Hömma: Hör´ mal, listen up!
Isso: ist so / that's the way it is
Pöhlen: play football, kick a ball about
Ruhri: inhabitant of the Ruhr Region
schnuckern: nibble; eat sweets or snacks, although you shouldn't really
wonnich: isn't it? Used after negative statements. E.g., Weather's bad, wonnich?